ON THE STREET WHERE YOU LIVED -Part 2
Tuesday, September 14, 2004
After the "tied-to-the-banana-clump" house, my father rented a house at the other end of the kampong. It belonged to Cek Mang. His son Awang was about my age and the older brother, Hashim created a sensation by getting lost overnight while on a camping trip at Pulau Kapas.
The house was nearer to Paya Keladi and the swampy ground did not seem to get dry. It was perpetually wet like some nymphomaniacs.
The house has a big veranda where on some evenings my father had jam sessions with his musician friends. I remember those sessions. They let me suggest songs to play. I invariably fell asleep long before the songs got played.
Directly in front of the house was Mok Som and Pok Tahir's house. They are my good friend Mat Jali's grandparents. Mat Jali lived with them. A few houses away was Tok Khatib's house. Tok Khatib was a nice old man. I was around when a ripe coconut got loose and fell on his bald head. He survived. I guessed his head was as hard as the head of Mamat Pala Kerah.
Mamat Pala Kerah really had a hard skull. I heard from reliable sources that once a fisherman lost his patience and whacked Mamat on the head with his peranyoh (boat oar). The oar broke but Mamat went on, none the worse, getting free fish from fishing boats that just landed. He would later sell the fish. We remember Mamat in his sarong and his singlet with another sarong hung on his shoulder. He had a haircut like Mao Tse Tung. Mamat wasn't exactly the best dressed man in town. Cek Kaleh was though.
Cek Kaleh was a well known personality in Kuala Terengganu. His job was gohed teksi. Teksi is what Terengganu people call the beca (trishaw). The motorized taxi is called kereta sewa (hired cars).
Terengganu teksi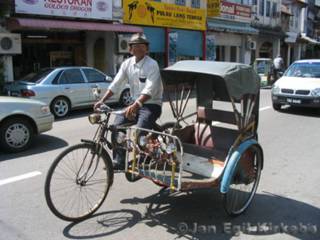 Cek Kaleh was probably the first person in town to buy the transistor radio. It was a paperback-sized job enclosed in a leather case. National brand and Japanese made. He hanged the radio to the front fender of
his trishaw and had music while he worked. Cek Kaleh loved music and he loved to dance. There are no cabarets or dancing halls in Kuala Terengganu. We did have stages built to celebrate the Sultan's Birthday, Merdeka and other occasions. These stages, made of wooden planks and oil drums were set up on the field called Padang Malaya just outside Istana Maziah. There were stages for
bangsawan
(Malay opera) and
anikaragam
(variety show),
wayang kulit

,
makyong
and one for
joget
. On the joget stage, there would be a row of chairs where the
joget
girls in their modern
kebayas
sat. Men who wanted to dance with these girls would buy tickets and they would have to give the tickets to the girl of their choice before dancing. There would be a rush for the prettiest girl on stage.
Cek Kaleh somehow would already have a seemingly endless supply of tickets for the joget. He would be the first to get up there, dressed to the hilt with his palm beach slacks, long-sleeved shirt, tie, Barratt shoes and a coat. The crowd would clap and roar in approval every time Cek Kaleh came on stage. They loved to see him do the the joget and occasionally the cha cha (off beat and regular). Other dances that involved hanging on to the partner were not allowed.
It was always nice to see Cek Kaleh, the teksi guy dancing with the taxi girls.
|
1:05 PM ::

::
11 CommentsOldStyle:
&COPY Bustaman
::
permalink