FISHY STORIES
Saturday, September 25, 2004
Saturdays get me thinking of fishing.
The earliest time I can remember fishing was with my maternal grandmother who took me fishing for small fishes called daung mengaba I think in the mengabang where Aryani Resort is now.
Then my maternal grandaunt, Tok Selamoh took me on her perahu jalor ( dugout) to fish in the Merang River. I made the mistake of lying down and she told me that her boat was not the Queen Mary. She never took me fishing again.
I got the fishing bug when Bah (my dad) lost his gun. His double barreled shotgun had a crack in one of the barrels. Friends in the Police Armory wanted to fix that quietly for him but Bah decided that the right thing to do was to surrender the gun and apply for a new one. He consulted the OCPD (Officer in Charge of the Police Department) who assured him many times that he will get the permit to buy a new gun. The permit never came. Bah nearly went crazy but contained his frustrations by fishing. He occasionally took me with him and I was hooked.
I prefer to fish in the sea rather than in the river. I didn't have much luck in the river. Once, before Kenyir Lake existed, a few friends and I went up to Sungai Terengan by Land Rover. They told me the fish there will even jump at rocks thrown into the water.
The water was clear and we saw a few kelah (masheer). First we tried the spoons. Didn't work. Then we tried the lures. Didn't work either. Mat Jali, the most experienced fisherman of the lot suggested ulat kekek ( white thumb-sized grub found under rotting tree trunks or in the ground). That didn't work either. Then Mat Jali told us to look for buah temarih that grows along the river bank. Kelah are known to eat this. We found the fruit but the haughty fish still didn't bite. I asked Mat Jali to shoot the fish with his shot gun but he declined.
We had grilled baung (sort of catfish, mystus sp.) (see pic below) for lunch courtesy of a non-sporting friend who used jala (casting net) to vent his frustration.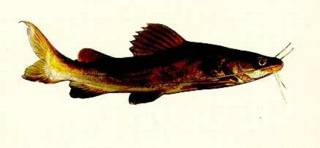 Another time, we stopped at every bridge on the road from Dungun to Kuala Terengganu, fished and didn't even get a buntal (puffer fish).

Fishing is a matter of rezeki. No rezeki, no fish.
My favourite story heard while waiting for the fish to bite was this:
A young man fishing alongside an older man didn't get any bite. The older man, meanwhile, was reeling them in. The young man asked for the old man's fishing secret.
Old Man: It's easy. Before I leave home, I see how my wife sleeps. If she sleeps on her right, I throw my line to the right. If she lies on the left, I throw my my hook to the left.
Young Man : What if she sleeps on her back?
Old Man: Then I don't go fishing.

Have a nice weekend.

|
12:05 AM ::

::
7 CommentsOldStyle:
&COPY Bustaman
::
permalink