MY CHOPPER EXPERIENCE
Thursday, September 02, 2004
Helicopters don't have the luxury of midair refueling. There are no petrol stations up there either. So when a chopper runs out of fuel in midair, it is perfectly natural that its occupants feel somewhat anxious.
When I was seconded to ICU (Implementation & Coordinating Unit), Prime Minister's Department, I had to use a helicopter to shoot footages for a documentary on coastal erosion. The Director of Engineering Division, Haji Fauzi was in charge of the coastal erosion problem and he needed some visual proofs for the next presentation. He chartered one of Mofaz's helicopters and on the appointed day we assembled at the terminal in Bukit Lanjan.
There were 4 of us. Hj. Fauzi, Megat, our betacam cameraman, Yazid (Wak) the still cameraman and myself. I was the director/producer and Hj. Fauzi was the client.
The flight didn't start very well. Our flight plan entailed crossing over Subang airport to the nearest coast. The weather was not so good.
Jerubu
(smog) hung stubbornly in the air and visibility was rather limited. Control tower told us to wait. Our schedules were tight and we couldn't wait too long. So after about an hour salivating over a few private helicopters parked in the hangar, we suggested to the pilot to take other routes. He agreed. So we took off heading towards Rawang and once out of the path of descending planes, headed to the coast.
We flew over water most of the time and shot parts of the coast breached by the sea. Usually where the prawn ponds were.
We stopped over to spend the night in Langkawi, Johor Baharu and Kota Bharu. We made 4 unscheduled landings. Once in an about to be completed School for the Handicapped's field in Malacca to have
kari kepala ikan
in a restaurant across the road, another in Mersing town
padang
(field) to have
nasi dagang
and the 3rd one in Radio Malaysia Kuantan's volleyball court.. We needed someone to guard the helicopter while we were gone for lunch. The 4th landing was the most interesting.
We flew out of Kuantan heavy with lunch. We were heading home to Kuala Lumpur and was somewhere near Genting Highlands when we ran into bad weather. There were walls of thick clouds all around us. Visibility was very poor. The Control Tower told us to seek alternative routes.
The pilot had to make a detour and skirted the bad weather by going through holes in the fog.
Suddenly, Megat who was in the co-pilot's seat woke up from his slumber. Megat is a burly gentleman and he needed a window to poke his camera out. So he got to sit in front. Fauzi, Wak and I are not so well endowed so the three of us could fit in the back seat. Megat was shouting something. I put on my headset to listen to what he was saying. He was telling me that the fuel gauge showed empty and the light was flashing. I looked at the pilot. He smiled reassuringly while looking for clearings down below. Hj. Fauzi and Wak were blissfully sleeping.
I saw only jungles below until a town came into view.
"Kuala Klawang!" said the pilot, very calmly. "We will look for a field."
We found the field. But there were lots of people in the field. A school was having the annual Sports Day.
"No problem" said the pilot "We will look for another school"
Meanwhile the light was still flashing and Megat has lost his considerable tan. Fauzi and Wak woke up, grasped the situation and began praying. Hard.
I remembered reading about how helicopters can glide down as long as the rotors keep turning. Otherwise the helicopter will drop like a stone. I muttered my own prayers.
To his credit, the pilot quickly spied a vacant field and landed safely. It was a Chinese school somewhere out of Kuala Klawang town. HQ was quickly contacted and the fuel truck promised. We decided to stretch our legs but ran smack into a crowd of excited villagers. They never had a helicopter landing in their village before. Some wanted to take down the numbers for 4 digits or whatever. Some were just nosy.
Relieved to land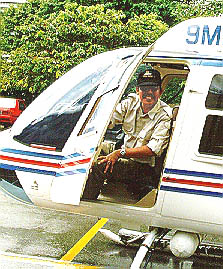 The fuel truck came some hours later leaving enough daylight for us to fly back to Kuala Lumpur. En route we made another landing in the car park of the PM's Department to offload equipment, Megat, Fauzi and Wak. I got to sit in front all the way to Bukit Lanjan.
|
1:09 PM ::

::
7 CommentsOldStyle:
&COPY Bustaman
::
permalink